Achieve more with our
intelligent management
platform
Delivers an intelligent customer management process across sales, customer support and marketing in real-time.
Understand
what makes your customers happy using
Sentiment Analysis
Realise the full potential of your business with AI-driven insights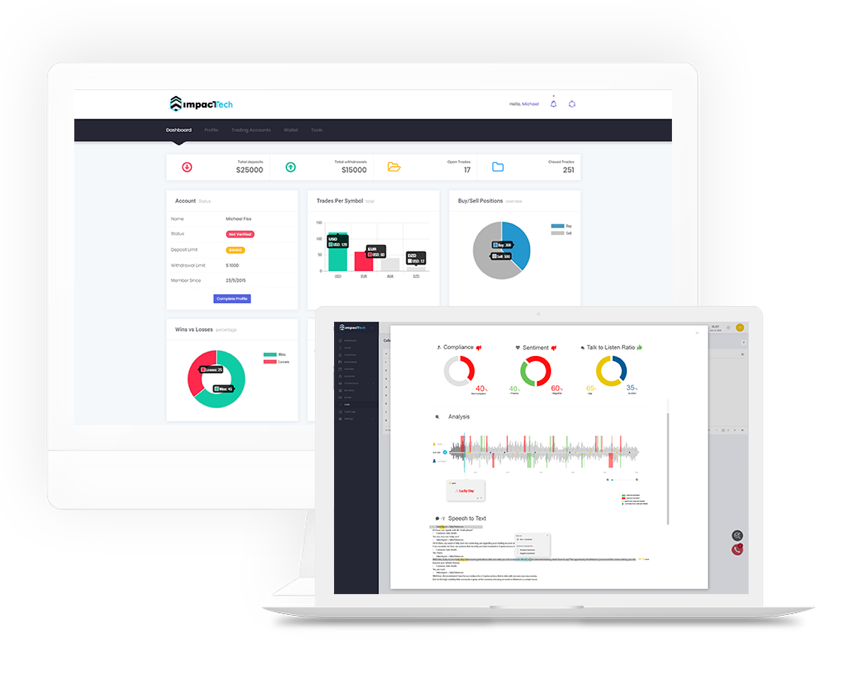 Why your business grows with Impact CRM
Turn data to meaningful insights
Understand the mood of your clients and what makes them happy
AI-driven Sentiment Analysis reveals the mood of your clients and leads during every interaction. Identify what makes your clients happy and improve retention by creating a detailed picture of the actions that result in sales. Gather the insights that deliver higher converting campaigns and improve your sales performance by defining optimal listen/talk ratios while avoiding compliance pitfalls.
Automated lead segmentation
Get your best leads to the most appropriate agent in the quickest time
Automatically assign leads to the people best suited to convert them in your sales team. Every lead is efficiently processed and segmented based on the marketing channel it came through, the language used and where applicable Introducing Broker (IB). Automated sorting saves time and enables your team to follow up leads as soon as they are created through automated tagging which assesses their potential using lead scoring and designates to pre-defined lead pools.
One dashboard delivers the big picture
All the information your team needs on a single interface
Give every client-facing member of your team the information they need to deliver the best customer experience. Open one screen to reveal personal information including their lifetime value. View verification details and the status of their KYC/AML. Give context to your communication through access to details about previous interactions and marketing campaigns. All account activity is displayed to give any member of the team the opportunity to make the most of every client interaction.
All documents, audit logs, calls and emails can also be viewed within their timelines to add relevance to the information.
Impact CRM's dashboard can be customised to meet the information needs of every member of your organisation. Give managers the data they need to analyse their team's performance and CEOs a global picture of business operations while managing access to sensitive information.
Always online with zero downtime
In our highly connected online world constant availability is key
Our robust content delivery network (CDN) incorporates the latest technologies and techniques currently available to provide your company with a highly available and efficient ecosystem to support your business. Horizontal scaling of our failsafe platform ensures you will always be online regardless of your size, traffic volume or data needs.
Pay as you grow
A business model to suit organisations of every size
Not all companies are the same. Using our pay as you grow model allows you to choose the level of resources your organisation needs. Our team of developers will help you through every step of the process to ensure Impact CRM meets your expectations.
Our platform has been built to scale with your success and delivers the same business-optimising insights regardless of the size of your company. By using an agile framework, our support team is able to set up the platform with the number of seats to suit the needs of your business and deliver customisation to your exact specification.
Secure by design
We protect you against the ever-changing threats in online commerce
Data protection has never been more important. Our process is GDPR compliant and data transmission and storage through our platform is encrypted using https and SSL protocols giving you the peace of mind that your business' data is always beyond the reach of external threats.
Trade across the globe
Payment services that cover the world and easy integration with trading platforms
Impact CRM seamlessly integrates with both MT4 and MT5 trading platforms and also comes incorporated with more than 250 payment providers as well as compliance services making it perfectly suited to brokerages
Unparalleled API architecture
Take the hassle out of integration to your existing applications
Our platform offers seamless integration with all third-party applications and tools without ever compromising on security by using our API or webhooks. Our platform offers limitless scalability allowing your business to grow by connecting easily with your existing cloud-based apps and on-premise software to make full use of your data.
Out-of-the-box integration with your favourite products
Scalable API architecture makes integration hassle-free